Jane Monk Studio - Queensland Flood Appeal Auction
Most everyone is well aware of the devestating floods in Queensland. I feel the need to participate and do something that I can to help ... I heard thatToni of
Make It Perfect
was organising an auction in blogland here and I wanted to help too.
If you click on the pink button below you'll get taken to her site where, on Sunday, there will be a complete list of everyone who has an auction running. Scroll down to the bottom to see how to bid .....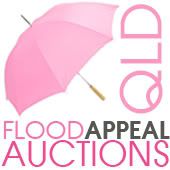 The Item I am putting up for this Auction is an Official Zentangle Kit (As for sale on my webstore Jane Monk Studio - check out my webstore to see what is in the kit - you will love it!)
How to bid
1. Bidding will start at
$30
(Australian).
2. You can
place a bid
by leaving a comment on this page with your bid amount and email address. Please make sure that your bid is higher than the previous bidder.
3. Your bid must be in
whole dollar increments
.
4. This auction is
open to Australian residents only. Postage will be paid by me to an address in Australia.
5. The auction begins
NOW
and will
END
at midnight on Monday 24th January 2011 Sydney time.
6. At the close of the auction, I will email the winner (please make sure your bid comment includes your email address). The winner will pay the winning amount directly into the
Premier's Flood Relief Appeal
and send me proof of payment via email. Once proof of payment has been received, I will post your Zentangle Kit to you.
7. Thankyou for participating and happy bidding!
Hugs and thanks to all ... Jane x