I am just overwhelmed by the footage that we are seeing coming in from Queensland, I have friends and family there (they are okay) and everyone is affected by the devestation and loss occurring at the moment. I heard about Toni from
Make It Perfect
and how she was organising an auction in blogland and I wanted to join in to help as much as I could. If you click on the pink umbrella button below you'll be taken to her site where, on Sunday, there will be a complete list of everyone who has an auction running.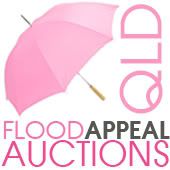 To Bid you will need to click on the Auction you are interested in bidding on and leave a comment (DON'T DO IT HERE) but on the page for the item you're interested in. The auction will finish on Monday 24th January. If you are the winning bidder I will send you an email. To pay just go to the
Premiere's Flood Relief Appeal
donate the amount and send me an email copy of your receipt together with your address and I will post the item to you. Auction item 1 is only open to Australian residents, however, Auction item 2 is open to International bidders as well. So start bidding and let's show those in Queensland how much we feel their plight and want to help. Thank you so much to everyone for your generosity.
Auction Item 1
... An Official Zentangle Kit
Auction Item 2
- An Original Hand Drawn Letter in my Zentangle style - you get to choose what letter you want in the centre at the end of the auction.
NOTE: This item is open to both Australian and International Bidders - it is easy to post and I am happy to pay the postage on this to an International address if needed.
Thank you so much to everyone for participating in this ... it is a big part of Australian culture to pull together in times of difficulty - so thank you once again. Jane x